Dixon PD Bike Patrols Resume
08/16/2013 10:24AM, Published by Brian O, Categories: Local Life
---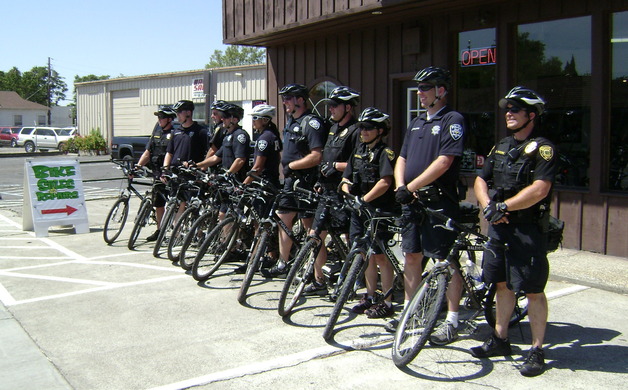 ---
After an over five year hiatus, Dixon police officers will again be riding bicycles on patrols. The revitalized program began this past Wednesday, August 14.

The officers will patrol key areas, such as downtown, parks, bike and pedestrian paths, shopping centers, and schools. Officers also will often have bikes on their patrol cars – to be used whenever the officers believe it appropriate.
The Police Department will also be hosting Bike Rodeos to teach kids about bike safety and fun riding skills.
The officers on patrol - five for now, with at least five more in the future – received 16 hours of special bike patrol training. The training was conducted by Officer Dustin Poore, who is the department's School Resources Officer.
Poore came to Dixon from the Los Rios Community College Police Department where bike patrol is a major part of crime prevention. Poore is a Certified Instructor for Bicycle Patrolling. The training sessions included officers from both Dixon and Los Rios.
"We are excited to have a way to interact with the public and to build rapport with the community," said Lt. Steele, the department's public information officer, "This will also be another tool to address crime trends."
Bike patrols are fast, maneuverable, and quiet. According to Jim Fisk, owner of Fisk's Cyclery who refurbished and tuned-up the department's bikes, the officers' bikes are built to be especially quiet – allowing them to approach a situation unnoticed until they are on site.
Lt. Steele offered special thanks to Fisk for the services that made it possible to re-start the Bike Patrol program.
---
---
---
You might also like

On 8-14-13 at approximately 1900 hrs. the Dixon Police Department responded to the area of 252 West H Street in the City of Dixon for a report of a sexual assault. A female victim was located at this location and determined to have been the victim of a sexual assault.


---