Downtown Dixon Hosts Halloween for Kids
10/30/2013 05:27PM, Published by Dave Scholl, Categories: Business, Local Life, News
---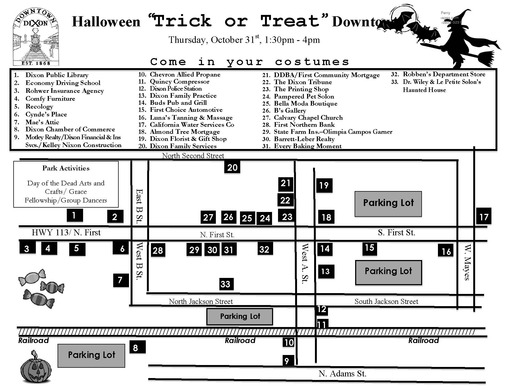 ---
Gallery: Dixon Downtown Halloween [3 Images] Click any image to expand.
---
Downtown is ready for all the trick or treaters to come between 2:00 and 5:00 pm on Halloween day, October 31. Over two dozen businesses will be handing out candy.
Activities in the park feature a Day of the Dead by State Farm, Olympia Gardner.
Grace Fellowship church is featuring children's activities in the park as well.
Calvary Chapel will host a Halloween Festival inside its Church on North First Street.
Look for the scare of your life in the Haunted House above Linde Lane Tea Room, by Kristina Wiley.
The downtown merchants look forward to seeing all of you!
---
---
---
You might also like

Dixon School District Facilities Debt Issues On Agenda for Thursday, August 7
By Brian Dolan, Superintendent of Schools Like almost every school district in California, the Dixon Unified School District (DUSD) has had to go into debt to pay for the costs of building or maintaining facilities. Unlike most other places, over the last six years DUSD has paid the majority of this debt from our General Fund. At this time, those payments are a significant obstacle for us to overcome and we are exploring alternative ways to pay them

Mayor & Council Thumb Noses at Voters
Once again at the City Council meeting Tuesday, June 10, the people showed emphatically their opposition to the doubling of sewer rates and commitment to borrow $30 million

Council Imposes $90,000 in Fees on St. Peter's Property
The Dixon City Council on Tuesday, May 27, adopted an "Agricultural Mitigation" ordinance, requiring payment of a $4,000 per acre fee for any property currently zoned for agriculture to be annexed to the city and re-zoned for other purposes.
---