Dixon High Drama Presents "Lion, Witch & the Wardrobe" this weekend
10/30/2013 05:37PM, Published by Dave Scholl, Categories: City+School, Local Life, News, Education
---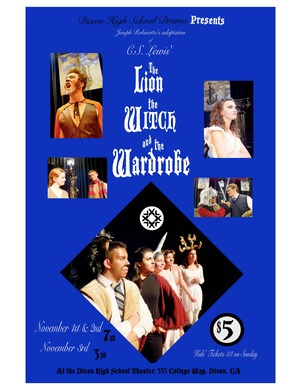 ---
This weekend, the Dixon High School Drama club will present "The Lion, The Witch & the Wardrobe" - adapted from C.S. Lewis's book - part of the Chronicles of Narnia.
Performances will be at 7 pm on Friday, Nov 1 and Saturday, November 2.
A Matinee performance will be on Sunday, Nov. 3 at 3:00 pm.
All performances are in the Dixon High School Theatre.
General Admission is $5.
On Sunday children will be admitted for $3.
---
---
dixon high school drama club lion witch & wardrobe cs lewis
---
You might also like

Dixon High School Cheerleading Tryouts Announced
Aspiring cheerleaders and their parents are also encouraged to attend an informational meeting on Thursday, March 27 at 6:00 pm in the Dixon High School Multipurpose Room to meet the coaches and answer any questions they may have about the upcoming cheerleading season. Tryouts will be held the week of April 7th.


---