Dixon VFW Donates $2,000 to Travis Fisher House
11/04/2013 10:33AM, Published by Dave Scholl, Categories: Local Life, News
---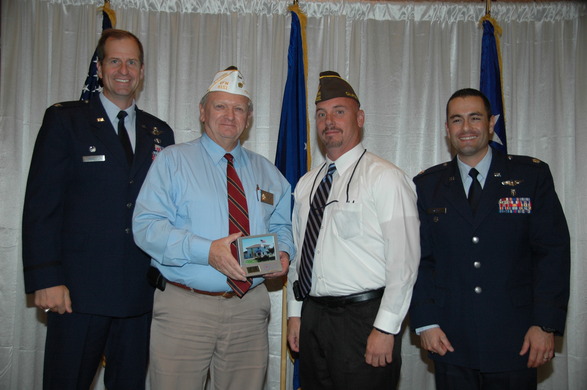 ---
Dixon VFW Donates $2,000 to Travis Fisher House

The Dixon VFW post was among the organizations receiving an award from Colonel Corey Martin, 60th Air Mobility Wing Commander and Lt Col Mark Nassir, 60th Medical Group Deputy Commander; holding the award is VFW Post 8151 Commander Brock.McMahon along with Post Member Robert LaPlante.
The Travis Fisher House provides a home away from home for military and veteran families to stay when a loved one is undergoing treatment at

David Grant USAF Medical Center

for a serious illness or injury, providing physical and emotional support to our servicemen, service women, retirees, veterans and their families. Since opening its doors in January 1994, the need has exceeded the capacity resulting in nightly waiting lists so the Fisher House Foundation is building a second Fisher House at Travis with the Ground-Breaking Ceremony scheduled for 2 pm on November 13th, 2013.
---
---
veterans vfw fischer house veterans of foreign wars donation
---
You might also like


Dixon VFW Presents Speech Award Scholarship
Dixon VFW Presents Speech Award Scholarship Dixon High School senior Camarina I. Augusto recently won the local VFW Voice of Democracy Award presented by the Dixon Veterans of Foreign Wars Post 8151.

The Twelfth annual North Bay Stand to Help Vets in Distress Open This Week - Oct 15 to 17
The North Bay Stand Down to assist veterans in distress is being held this week from October 15, to 17 at the Dixon Fairgrounds in Dixon. The event is organized by North Bay Operation Hand Up – a coalition of veterans' groups and other agencies and organizations. The event provides a wide variety of services to the veterans - including local community, County, and Veterans Administrations benefits, services, and resources for returning Operation Iraqi Freedom/Operation Enduring Freedom Veterans, families of those still serving overseas, the families of those who made the ultimate sacrifice while serving our country, and homeless veterans who served their country honorably.
---