Dixon Toys for Tots & Community Christmas Program Will Bring Joy to Hundreds of Needy
12/01/2013 04:03PM, Published by Dave Scholl, Categories: Local Life, News
---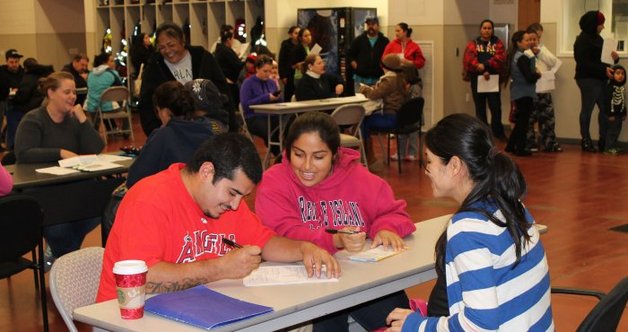 ---
The second and last sign ups will be next Monday and Tuesday, December 2nd and 3rd at the Dixon Fire Department on Ford Way from 6:30 to 8:30 p.m.

Over 300 families and about 700 to 800 children are expected to be accepted into the Dixon Toys for Tots and various other Dixon Community Christmas programs this year. The toy and coat drives are under way with over 30 collection boxes at business through the city. Coats can be taken to the police department and toys to the fire department.

Financial donations to help with the programs can be made at First Northern Bank, the Bank of America and Wells Fargo Bank under the name of Dixon Toys for Tots. "Caring and sharing" is the credo shared by the hundreds of volunteers working on the programs.
Additional information can be obtained by calling 678-2203 from 1 to 5 pm daily.
Program chairman Ted Hickman said there will be several hundred volunteers working on the seven different programs preparing for Santa's arrival at his work shop. He said they expect between 700 and 800 children to be qualified this year and added the coat drive is now underway with the goal again this year of 1,000 coats.
He added, "It's all about caring and sharing. Donation of toys and coats can be made at over 30 business sites throughout the community and financial donations can be made at the First Northern bank, Bank of America or Wells Fargo Bank in the name of Dixon Toys for Tots. The annual budget for all programs is about $15,000 which includes the special Christmas Eve senior citizen visits (about 100)s.
The local, private non-profit 501C-3, all volunteer, collection of Christmas programs is in its 47th year financed strictly by community and business donation, with no government involvement. The programs offer a chance for children to have a special visit with Santa Claus at his workshop and receive a gift or two. Christmas trees can be made available along with some bikes, and coats will be provided to all of those in need. The food for families only helps those who have children, with the greatest need, during the three weeks the children are out of school.
---
---
dixon christmas toys for tots coats for kids bikes for tykes
---
You might also like

Dixon School District Facilities Debt Issues On Agenda for Thursday, August 7
By Brian Dolan, Superintendent of Schools Like almost every school district in California, the Dixon Unified School District (DUSD) has had to go into debt to pay for the costs of building or maintaining facilities. Unlike most other places, over the last six years DUSD has paid the majority of this debt from our General Fund. At this time, those payments are a significant obstacle for us to overcome and we are exploring alternative ways to pay them

Mayor & Council Thumb Noses at Voters
Once again at the City Council meeting Tuesday, June 10, the people showed emphatically their opposition to the doubling of sewer rates and commitment to borrow $30 million

Council Imposes $90,000 in Fees on St. Peter's Property
The Dixon City Council on Tuesday, May 27, adopted an "Agricultural Mitigation" ordinance, requiring payment of a $4,000 per acre fee for any property currently zoned for agriculture to be annexed to the city and re-zoned for other purposes.
---