Dixon VFW Presents Speech Award Scholarship
01/21/2014 06:33PM, Published by Dave Scholl, Categories: City+School, Local Life, News, Education
---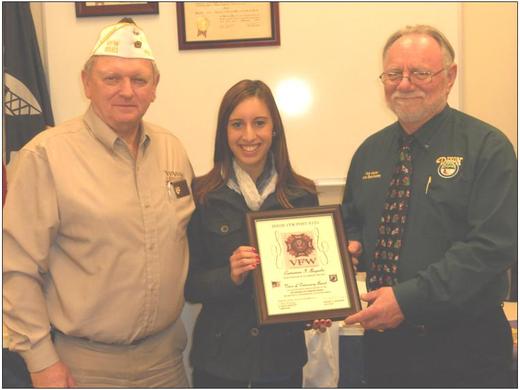 ---
Dixon VFW Presents Speech Award Scholarship
Dixon High School senior Camarina I. Augusto recently won the local VFW Voice of Democracy Award presented by the Dixon Veterans of Foreign Wars Post 8151.
The Voice of Democracy competition provides high school students with the opportunity to speak out on freedom and democracy and requires entrants to write and record a three-to five-minute speech on a patriotic theme. This year's theme was "Why I'm Optimistic About our Nation's Future."
Augusto received a VFW Achievement Medal, Certificate plaque and a Scholarship check.
Assisting Dixon VFW Post Commander Brock McMahon with the presentation was Dixon Vice-Mayor Dane Besneatte.

---
---
vfw voice of democracy augusto brock dane speech
---
You might also like

Dixon VFW Donates $2,000 to Travis Fisher House
The Travis Air Force Base Fisher House recently held its annual recognition ceremony at the Travis Delta Breeze Club honoring contributing individuals and organizations. Dixon Veterans of Foreign Wars Post 8151 has donated $2,000 and numerous volunteer hours to the Travis Fisher House.


---