Dixon PD Seeks Leads in Hit & Run Collision - Two Pedestrians Injured
02/27/2014 05:33PM, Published by Dave Scholl, Categories: Local Life, News
---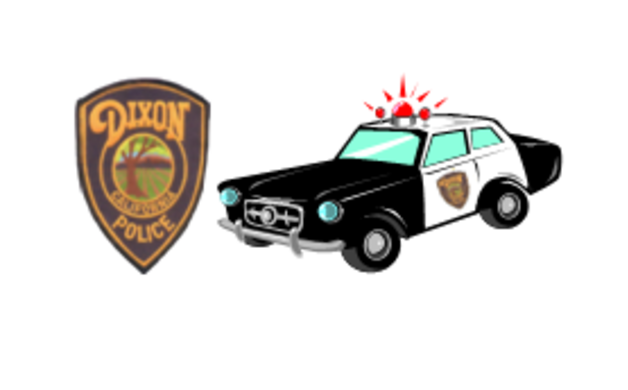 ---
Dixon PD Seeks Leads in Hit & Run Collision - Two Pedestrians Injured
At 6:59 pm on Wednesday, February 26, 2014 hours the Dixon Police Department responded to the intersection of North First Street and East C Street for a Vehicle vs. Pedestrian traffic accident. Upon their arrival they found a 39 year old male and a 24 year old female lying in the street.

The suspect vehicle is described as possibly a late 1990's, Honda or Acura, Silver or Grey, with a primer colored passenger side door, possibly 2-Door.

The Dixon Fire Department and Medic Ambulance arrived on scene and started medical treatment on the victims.

Both victims were transported to Kaiser Hospital in Vacaville by Medic Ambulance for medical treatment and were later released.
Officers talked to several witnesses and found that both victims were hit by a vehicle as they crossed the street in the crosswalk. According to witnesses both pedestrians were walking south bound in the crosswalk on East C Street, when they were hit by a vehicle that was originally traveling south bound on North First Street, before it turned left onto east bound East C Street.

The vehicle continued to drive away at a high rate of speed, without stopping at the scene of the collision, and was last seen by several witnesses speeding away on north bound North Second Street.

The cause of the collision and the identity of the driver of the vehicle are still under investigation. Anyone with information about the accident is asked to contact the Dixon Police Department at 678-7080. Those wishing to remain anonymous can contact the Solano County Crime Stoppers tip line at 707-644-7867.

---
---
---
You might also like

Dixon School District Facilities Debt Issues On Agenda for Thursday, August 7
By Brian Dolan, Superintendent of Schools Like almost every school district in California, the Dixon Unified School District (DUSD) has had to go into debt to pay for the costs of building or maintaining facilities. Unlike most other places, over the last six years DUSD has paid the majority of this debt from our General Fund. At this time, those payments are a significant obstacle for us to overcome and we are exploring alternative ways to pay them

Mayor & Council Thumb Noses at Voters
Once again at the City Council meeting Tuesday, June 10, the people showed emphatically their opposition to the doubling of sewer rates and commitment to borrow $30 million

Council Imposes $90,000 in Fees on St. Peter's Property
The Dixon City Council on Tuesday, May 27, adopted an "Agricultural Mitigation" ordinance, requiring payment of a $4,000 per acre fee for any property currently zoned for agriculture to be annexed to the city and re-zoned for other purposes.
---