Teen Activist Announces for Dixon City Council
04/08/2014 06:15PM, Published by Dave Scholl, Categories: City+School, Local Life, News
---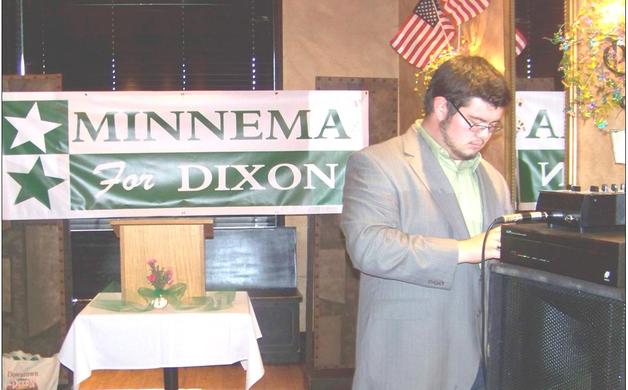 ---
Teen Activist Announces for Dixon City Council
Devon Minnema has officially announced his candidacy for Dixon City Council, the youngest person to ever do so.
Devon (18) made the announcement Tuesday, April 8, 2014, at a breakfast held in at Bud's Pub & Grill, 100 S. First St., Downtown Dixon.
Devon gained public notice when was 13-years-old and organizing nationally recognized rallies for conservative causes.
He recently attended the high-powered annual Conservative Political Action Conference in Washington, D.C.
Devon Minnema, 18, prepares for his candidacy announcement for Dixon City Council for the November 2014 Elections. He has long been passionate about the Constitution and organized his first Tea Party when he was 13. He is the youngest candidate ever to file for Dixon Council.
---
---
election council devon minnema candidate
---
You might also like

Proven Microbiological System Could Solve Dixon Sewer Issue & Save Millions
City Staff Hide Option from Council Since 2010 Proven Microbiological System Could Solve Dixon Sewer Issue & Save Millions. "Green" Tech Firm Interest in Dixon as Demonstration Project A proven advanced waste water treatment technique using microbiology could resolve Dixon's sewer issues within months, and at a cost of less than one-dollar per month per hook-up. That is in contrast to a $30 million "activated sludge" project that can't be on line until late 2015, and will double sewer fees to every Dixon home. In fact, the advanced system could have been in operation over three years ago if local officials hadn't ignored the information and hid it from the City Council when it was first provided to the staff in 2010

Young Dixonite Attends Major Political Conference
Among conservatives, CPAC, the Conservative Political Action Conference just outside the nation's capital, is the biggest annual event with thousands of conservative leaders and activists attending. Smashed somewhere among them was a young Dixonite, Devon Minnema.

---