Grillin' & Chillin' Kicks in $1000 to American Legion for Annual "Stand-Down"
08/05/2014 08:47PM, Published by Dave Scholl, Categories: City+School, Local Life, News
---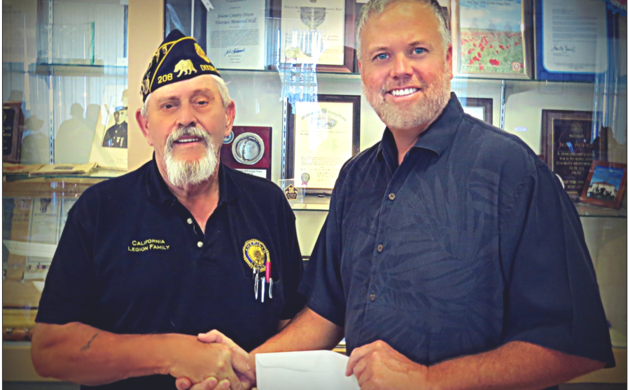 ---
Grillin' & Chillin' Kicks in $1000 to American Legion for Annual "Stand-Down"
Dixon's Grillin & Chillin Car & Truck Show's Tom Carrier gives $1000 to Norm Shontz for Dixon's American Legion Post 208 Stand-Down Fund Raiser, held on Aug. 2, 2014.
So what is a "Stand-Down"?
Stand-Down is a program for needy veterans. It is designed to transform the despair and immobility of homeless into the momentum necessary to get into recovery, to resolve legal issues, to seek employment, to access health and benefits, to reconnect with the community and to get off the streets…
Each year the Stand-Down has grown and been refined to meet the needs of our area homeless veterans. Dixon's Grillin & Chillin Car & Truck Show's Tom Carrier, Mike Hamilton, Rich & Janette Barrango is proud to help in this great undertaking.
To learn more log on to http://www.dixonpost208.com
---
---
american legion veterans stand down donation grillin' chillin'
---
You might also like

Dixon VFW Donates $2,000 to Travis Fisher House
The Travis Air Force Base Fisher House recently held its annual recognition ceremony at the Travis Delta Breeze Club honoring contributing individuals and organizations. Dixon Veterans of Foreign Wars Post 8151 has donated $2,000 and numerous volunteer hours to the Travis Fisher House.
American Legion Fund-Raiser with Honey Bees
Dixon American Post 208 Commander, Norm Shontz is seen with the "Honey Bees" just prior to their singing performance last Saturday night at the Stand Down dinner fund raiser.

The Twelfth annual North Bay Stand to Help Vets in Distress Open This Week - Oct 15 to 17
The North Bay Stand Down to assist veterans in distress is being held this week from October 15, to 17 at the Dixon Fairgrounds in Dixon. The event is organized by North Bay Operation Hand Up – a coalition of veterans' groups and other agencies and organizations. The event provides a wide variety of services to the veterans - including local community, County, and Veterans Administrations benefits, services, and resources for returning Operation Iraqi Freedom/Operation Enduring Freedom Veterans, families of those still serving overseas, the families of those who made the ultimate sacrifice while serving our country, and homeless veterans who served their country honorably.
---