SOULSHINE WELCOMES MICHAEL SKINNER AND HIS SONGS OF SOUL
Categorized as:
Entertainment
Event tags: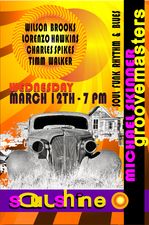 Description:
Soulful, singer/songwriter/guitarist, Michael Skinner, guest stars with The Groovemasters, Wednesday March 12, at The Empress Theatre, Vallejo.
Performing songs he's written about life, love, loss, and hope, the heartfelt
baring of his soul, assures his audience of a captivating experience.
Members of The Groovemasters are: Timm Walker, bass; Wilson Brooks, drums;
Lorenzo Hawkins, keyboards; and Charles Spikes, guitar.
The Groovemasters with Special guest Michael Skinner
The Empress Theatre
330 Virginia Ave, Vallejo, CA
Wednesday 3/12/2014
Showtime: 7:00PM
admission: $7.00 adv./ $9.00 at door
Plenty of free parking!
707-552-2400
www.empresstheatre.org
manager@empresstheatre.org
---
Advertisement