HOT HOUSE BLUES SIZZLES WITH KEVIN RUSSELL
Categorized as:
Entertainment
Event tags:
The Empress Theatre - 330 Virginia, Vallejo, CA 94590

March 26, 2014

07:00PM - 10:00PM

Price: Admission: $7.00 Advance / $9.00 At the door

Phone: (707) 552-2400

---

Posted by: christine vitale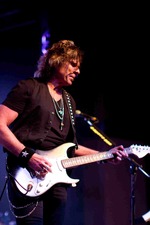 Description:
HOT HOUSE BLUES SIZZLES WITH KEVIN RUSSELL
Wednesday March 26
Kevin Russell's power-packed performance is going to sizzle at HOT HOUSE BLUES, Wednesday March 26. Born and raised in the Detroit, he has a very stylized blend of blues, rock and soul. Kevin is  a very passionate guitar player, as well as an accomplished singer/songwriter, and record producer. A driving force of the West Coast music scene, Kevin first rose to prominence with his classic rock band 707. Kevin recently completed over 380 shows in New York City, and San Francisco, as a cast member of the Broadway Smash Hit "Jersey Boys"  in NYC & SF.
Get out and experience this one.
Plenty of free parking!
---
Advertisement