A NIGHT OF "WEST COAST, ACOUSTIC SOUL " WITH CORINNE WEST BAND
Categorized as:
Entertainment
Event tags: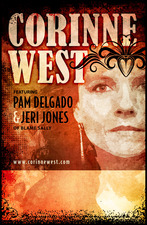 Description:
Corinne West has been described as "the Siren of the Sierras" and for good reason. A fourth generation Californian, Corinne's powerful and eloquent voice, coupled with her high-level songwriting, has her recognized as a driving force within the global acoustic roots music community. Her compelling performance creates a memorable experience for her audience. Corinne is currently touring with her newly formed band featuring Pam Delgado and Jeri Jones; founding members of the San Francisco-based Indie Americana band Blame Sally. Don't miss this show:
plenty of free parking!
---
Advertisement